40W of tonal goodness in a compact grab and go package!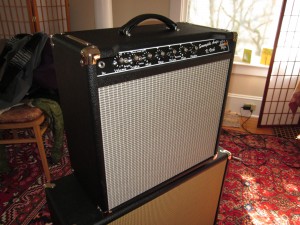 An ideal club amplifier!
I always wanted a great 40W 1×12 combo amp with reverb and just the right tonal qualities and size. I could not find one that I really loved. So, I just had to design and build this amp! With a beautiful clean tone, a great reverb circuit, and enough headroom for most clubs or blues jams. It's a very versatile amp. With its 40W power stage, compact (but not too small) form-factor, and wide array of tone-sculpting options, it strikes the perfect balance between big BIG sound and portability. And, oh my goodness, yes, it takes pedals extremely well. This will be your go-to amplifier!
40W 2 6L6 Class AB push-pull output stage
Custom Heyboer Power supply Transfomer
Custom designed aluminum chassis
Hammond output transformer
Tube reverb with dwell and mix controls
Master volume
Treble, middle and Bass tone controls
Two way mid voicing switch
Brite switch – Finely tuned to not take your head off! Much more useable than the old Fender Brite switches.
Tube-rectifier emulation – Sags just like a tube rectified amplifier, but with without needing a rectifier tube and its associated reliablity problems.
Custom Designed 1×12 combo cabinet with semi-open back for portability and deep full tone
Dimensions:   width: 20.5″ Height: 20″ (+ handle and feet) , depth: 10.5″
Weight: 33 Lbs

unloaded

(without speaker)
$2200 + taxes and shipping
To order: $1200 deposit (non-refundable)
Comes as a 1×12 combo, your choice of most standard tolex colors and grille cloth
Speaker choices:
Eminence Swamp Thang ( 11.1 Lbs.)
Jensen C12K, $20 extra, (9.65 Lbs.)
Jensen Blackbird, $100 extra, (6.9 Lbs.)
Weber California, $40 extra, (11 Lbs.)
Weber Michigan, $40 extra, (11 Lbs.)
Other speakers, call to discuss!